Meet Insight's
Leadership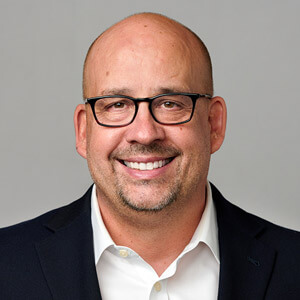 Stan Lequin
President Solutions
Insight North America
Stan Lequin assumed his role as president of solutions in May 2022. He joined the company in 2011 when Insight acquired Ensynch. His role was to launch and support Insight's consulting services organisation as vice president.
Prior to joining Insight, Lequin co-founded Ensynch and was chief operating officer and consulting services leader. He helped build Ensynch from the ground up, where he supported nearly every element of the business — from helping clients achieve their goals with technology to building effective processes and developing strong teams.
Lequin earned a degree in computer information systems from York College of Pennsylvania. He started his career at Accenture, where he learned to be a technology consultant. He then moved to consulting and professional services leadership at Tosco, where he ran strategic programs for the chief information officer.
Today, Lequin leads the solutions practice at Insight. He's dedicated to developing leadership and teammate capacity — acting as a servant leader to the teammates who provide clients with Insight Intelligent Technology Solutions™. Lequin follows Insight's core values of hunger, heart and harmony by starting with the heart. He explains that when you help foster a caring community, the rest follows suit to create a collaborative and growing environment among clients and teammates.
About Insight
Insight Enterprises, Inc. is a Fortune 500 solutions integrator with more than 11,500 teammates worldwide helping organisations accelerate their digital journey to modernise their business and maximise the value of technology. We enable secure, end-to-end transformation and meet the needs of our clients through a comprehensive portfolio of solutions, far-reaching partnerships and 33+ years of broad IT expertise. Rated as a Forbes World's Best Employer and certified as a Great Place to Work, we amplify our solutions and services with global scale, local expertise and a world-class e-commerce experience, realising the digital ambitions of our clients at every opportunity. Discover more at insight.com. NSIT-M
Gain knowledge from our leadership.
Insight executives and industry thought leaders share their perspectives on IT and the industry in a variety of content available to view now.