Meet Insight's
Leadership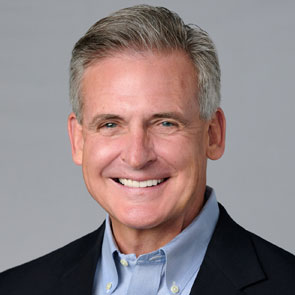 Sam Cowley
General Counsel
Insight
Sam Cowley joined Insight as senior vice president, general counsel and secretary in 2016. He has extensive experience working in a variety of areas of the law over his 30+ year career, including mergers and acquisitions, contract negotiation, and regulatory compliance.
From 2012 to 2016, Cowley served as general counsel and vice president, business development of Prestige Brands Holding, Inc. Prior to that, he served as executive vice president, business development and general counsel of Matrixx Initiatives, Inc., and executive vice president and general counsel of Swift Transportation Co., Inc. He has practiced law in the business and finance groups with law firms Snell & Wilmer and Reid & Priest.
Cowley earned his Doctor of Law from Cornell University after earning his bachelor's in economics at Brigham Young University. Today, Cowley leads the legal and compliance teams, who are responsible for managing many of the behind-the-scenes operations of Insight's business. He strives create a culture of trust across his department, leading his team through his core values of respect, integrity and fairness. In 2021 he was honored as a finalist for Public Company General Counsel of the Year at the Arizona Corporate Counsel Awards.
About Insight
Insight Enterprises, Inc. is a Fortune 500 solutions integrator with more than 11,500 teammates worldwide helping organisations accelerate their digital journey to modernise their business and maximise the value of technology. We enable secure, end-to-end transformation and meet the needs of our clients through a comprehensive portfolio of solutions, far-reaching partnerships and 33+ years of broad IT expertise. Rated as a Forbes World's Best Employer and certified as a Great Place to Work, we amplify our solutions and services with global scale, local expertise and a world-class e-commerce experience, realising the digital ambitions of our clients at every opportunity. Discover more at insight.com. NSIT-M
Gain knowledge from our leadership.
Insight executives and industry thought leaders share their perspectives on IT and the industry in a variety of content available to view now.