Meet Insight's
Leadership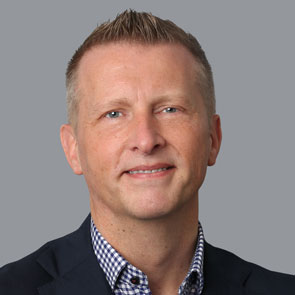 Russell Leighton
Senior Vice President Finance and Operations
Insight EMEA
Russell Leighton joined Insight in 2000 as a finance manager and assumed his current role as senior vice president of finance and operations of Insight EMEA in 2015. He is a member of the Institute of Chartered Accountants in England and Wales (ICAEW). Prior to Insight, Leighton served at KPMG as an audit manager.
Leighton earned his bachelor's in accounting and management at Sheffield Hallam University. He is responsible for strategic planning and scrutinising financial reports — playing a critical role around financial modelling, business planning and operational analysis. He has also supported transformation projects as an executive sponsor that helped modernise key business processes and tools. Leighton reports directly to the EMEA president and plays an instrumental role in growing Insight's business operations across EMEA.
About Insight
Insight Enterprises, Inc. is a Fortune 500 solutions integrator with more than 11,500 teammates worldwide helping organisations accelerate their digital journey to modernise their business and maximise the value of technology. We enable secure, end-to-end transformation and meet the needs of our clients through a comprehensive portfolio of solutions, far-reaching partnerships and 33+ years of broad IT expertise. Rated as a Forbes World's Best Employer and certified as a Great Place to Work, we amplify our solutions and services with global scale, local expertise and a world-class e-commerce experience, realising the digital ambitions of our clients at every opportunity. Discover more at insight.com. NSIT-M
Gain knowledge from our leadership.
Insight executives and industry thought leaders share their perspectives on IT and the industry in a variety of content available to view now.