Meet Insight's
Leadership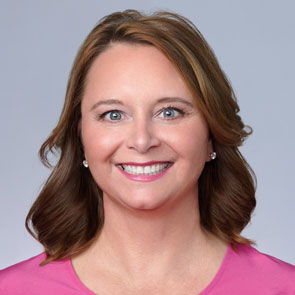 Rachael A. Crump
Chief Accounting Officer
Insight
"Two-way communication is vital to success. I want my team to know, see and believe that I'm available to help solve problems in the moment and provide mutual coaching."
Get to know Rachael.
Rachael is dedicated to finding the right answer — the one that drives success.
She is a certified public accountant with a bachelor's degree in business administration accounting from the University of Wisconsin-Whitewater.
From the beginning, her career merged technology and finance. Rachael first supported Phoenix's burgeoning tech industry at Ernst & Young, auditing firms for their initial public offerings.
In 1999, she transitioned to Sage Software as a controller. It was her first global role — but was only a hint as to how global finance really worked, she says.
After a two-year stint at MedAire, she entered the semiconductor industry, joining Amkor Technology in 2006. This was her first truly global job, since Amkor's operations extended across Asia.
As the senior director controller of global accounting, Rachael was the finance lead of Amkor's SAP global implementation. Through that experience, she saw firsthand how finance could accelerate the agility and speed of a company — a critical perspective she brought to her work at Insight.
Rachael A. Crump joined Insight in 2016 as vice president of finance, controller – North America and was appointed to accounting officer in 2018.

Her responsibilities include supporting leadership on financial decisions, ensuring Insight meets its fiduciary responsibilities and empowering her team to succeed.
The best way to achieve is through clear communication, Rachael says. She brings clarity to ambiguous situations — no matter how complex a problem is, Rachael is always there to find the right answer.
"We're here to support and enable the business, which I think is the biggest benefit of finance," she says. "If you have a good finance organization, they should be enabling the business. And that's what I see us doing."
Gain knowledge from our leadership.
Insight executives and industry thought leaders share their perspectives on IT and the industry in a variety of content available to view now.