Meet Insight's
Leadership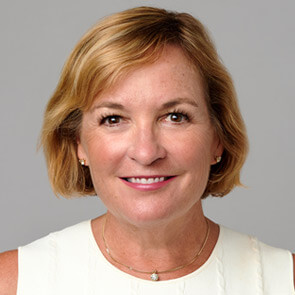 Joyce Mullen
President and Chief Executive Officer
Insight Enterprises
Joyce Mullen assumed her role in January 2022 as president and CEO of Insight Enterprises, a $9.4 billion Fortune 500 organisation. She leads Insight's evolution as an industry-recognized solutions integrator that helps organisations accelerate their digital journey and maximise the business value of technology.
Mullen joined the company in October 2020 as president of North America. Under her leadership, net sales in North America increased 14% to $7.5 billion in 2021 amid a global pandemic and an exceedingly volatile market. She drove consolidation of Insight's solutions organizations to streamline the company's services business and accelerate Insight's strategy to become a leading solutions integrator, fully leveraging the company's broad portfolio of hardware, software and services to deliver impactful outcomes to clients.
Prior to joining Insight, Mullen served as president of Dell Technologies' global channel, embedded and edge solutions. During her 21-year tenure at Dell, she held several executive positions, leading a broad range of organizations including sales, operations, supply chain, partner strategy, services delivery and logistics. Under Mullen's leadership, Dell's channel sales exceeded $50 billion, as she drove channel strategy, partner programs, solution provider enablement and channel sales execution along with Dell's relationships with OEMs and distributors.
Prior to Dell, she held various leadership roles at Cummins Engine Company for nine years, including director of international customer support, director of EMEA logistics, and several plant manager roles.
Mullen earned her MBA from Harvard Business School and BA from Brown University with a degree in international relations.
Today, Mullen oversees Insight's 12,000+ teammates, who operate in 19 countries and include 5,000+ technical experts (architects, engineers and software developers). Insight's deep proficiency in cloud, data, cybersecurity and edge-based solutions helps clients accelerate digital transformation and realise bold ambitions by driving better business, speed and scale, resilience and innovation.
About Insight
Insight Enterprises, Inc. is a Fortune 500 solutions integrator with more than 11,500 teammates worldwide helping organisations accelerate their digital journey to modernise their business and maximise the value of technology. We enable secure, end-to-end transformation and meet the needs of our clients through a comprehensive portfolio of solutions, far-reaching partnerships and 33+ years of broad IT expertise. Rated as a Forbes World's Best Employer and certified as a Great Place to Work, we amplify our solutions and services with global scale, local expertise and a world-class e-commerce experience, realising the digital ambitions of our clients at every opportunity. Discover more at insight.com. NSIT-M
Gain knowledge from our leadership.
Insight executives and industry thought leaders share their perspectives on IT and the industry in a variety of content available to view now.