Meet Insight's
Leadership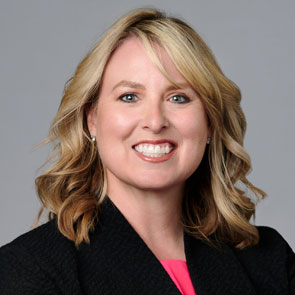 Jen Vasin
Chief Human Resources Officer
Insight
Jen Vasin became Insight's chief human resources officer in 2022 and leads a global team that represents more than 9,100 teammates. Her dedication to Insight's people and values have been key factors in Vasin's success since her previous employer, Calence, was acquired by Insight in 2008.
Before joining Insight, Vasin led the HR team at Calence, a professional consulting firm, as it grew from 80 to more than 500 employees.
Vasin earned her Master of Business Administration degree from Arizona State University, where she also completed undergraduate studies in business management. She began her career at America West Airlines. Starting in a flight attendant role, Vasin quickly learned the ins and outs of how a large organisation is run. Her passion for human resources and leadership clicked when Vasin took on a leadership role in America West's HR department.
Today, as chief human resources officer, Vasin is a leader in Insight's philanthropic endeavors, including the Reach program whose mission is to connect children with technology through in-market giving to the communities in which Insight operates. Under Vasin's tenure, Insight founded the In It Together Foundation, which serves teammates in times of crisis and is jointly funded by teammates and Insight. Also under her leadership, Insight has been listed several times on the Phoenix Business Journal's Best Places to Work and was awarded a spot on the Fortune 100 Best Workplaces for Diversity in 2018 and 2019.
About Insight
Insight Enterprises, Inc. is a Fortune 500 solutions integrator with more than 11,500 teammates worldwide helping organisations accelerate their digital journey to modernise their business and maximise the value of technology. We enable secure, end-to-end transformation and meet the needs of our clients through a comprehensive portfolio of solutions, far-reaching partnerships and 33+ years of broad IT expertise. Rated as a Forbes World's Best Employer and certified as a Great Place to Work, we amplify our solutions and services with global scale, local expertise and a world-class e-commerce experience, realising the digital ambitions of our clients at every opportunity. Discover more at insight.com. NSIT-M
Gain knowledge from our leadership.
Insight executives and industry thought leaders share their perspectives on IT and the industry in a variety of content available to view now.