Meet Insight's
Leadership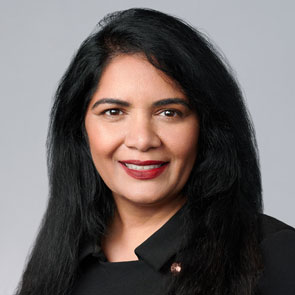 Suma Nallapati
Chief Information Officer
Insight
Suma Nallapati leads a global team of more than 400 information technology specialists and drives Insight's digital transformation efforts — including enhancing client experiences, expanding data and digital capabilities, and overseeing day-to-day IT operations and cybersecurity.
Before joining Insight in 2022, Nallapati served as senior vice president and chief digital officer at both Dish Network and Everbridge. Previously, she held positions at TeleTech, Catholic Health Initiatives and the State of Colorado. During her tenure as the secretary of technology and chief information officer for the State of Colorado, Nallapati discovered her passion for strategising and implementing IT initiatives to support vulnerable populations. One of her proudest achievements was significantly reducing processing times of Medicare and Medicaid eligibility by moving the program to the public cloud.
Nallapati is fiercely passionate about advancing diversity, equity and inclusion in the technology industry. Her experience includes work with the Blind Institute of Technology, LadyCoders and Women in STEM. She was named in 2019 among the Top 50 Most Powerful Women in Technology by The National Diversity Council.
About Insight
Insight Enterprises, Inc. is a Fortune 500 solutions integrator with more than 11,500 teammates worldwide helping organisations accelerate their digital journey to modernise their business and maximise the value of technology. We enable secure, end-to-end transformation and meet the needs of our clients through a comprehensive portfolio of solutions, far-reaching partnerships and 33+ years of broad IT expertise. Rated as a Forbes World's Best Employer and certified as a Great Place to Work, we amplify our solutions and services with global scale, local expertise and a world-class e-commerce experience, realising the digital ambitions of our clients at every opportunity. Discover more at insight.com. NSIT-M
Gain knowledge from our leadership.
Insight executives and industry thought leaders share their perspectives on IT and the industry in a variety of content available to view now.